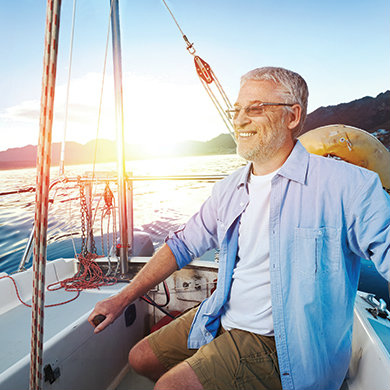 Individual Retirement Accounts (IRAs)
We know you've worked hard—make your earnings work even harder in the future. Much more than saving for a rainy day, an IRA from ONE AMERICAN BANK is a safeguard for your golden years.
Enjoy peace-of-mind with a competitive interest that grows with you — year after year. With two options that both offer significant tax benefits,* you simply can't go wrong.
Features
Competitive interest above standard savings rates
Traditional and Roth IRA options
No setup fees
No monthly or annual maintenance fees
Annual contribution limits apply
Additional "catch-up" contribution allowed for ages 50+ (see current contribution limits from the IRS)
$50 minimum deposit to open
Funds can be used to purchase Certificates of Deposit (CDs) within IRA

See CD minimum deposit requirements.
Traditional Vs. Roth
Traditional IRA
No income limits to open
No minimum contribution requirement
Contributions are tax deductible on state and federal income tax*
Earnings are tax deferred until withdrawal (when usually in lower tax bracket)
Withdrawals can begin at age 59 ½
Early withdrawals subject to penalty**
Mandatory withdrawals at age 70 ½
Roth IRA
Income limits to be eligible to open Roth IRA*
Contributions are NOT tax deductible
Earnings are 100% tax free at withdrawal*
Principal contributions can be withdrawn without penalty*
Withdrawals on interest can begin at age 59 ½
Early withdrawals on interest subject to penalty**
No mandatory distribution age
No age limit on making contributions as long as you have earned income
*Consult a tax advisor.
**Certain exceptions apply, such as healthcare, purchasing first home, etc.