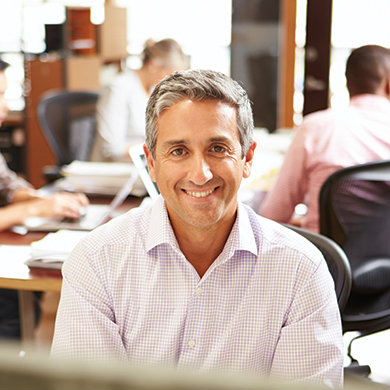 Business Checking
At ONE AMERICAN BANK, we have your business covered. Our versatile Business Checking account will meet your specific needs, no matter the size of your business.
With a low $100 minimum deposit to open, you can enjoy all of the benefits. Conduct as many transactions as necessary at low per-item fees. ONE AMERICAN BANK even issues a monthly Earnings Credit* to minimize or offset those fees. Best of all, we make it easy to open a business account. Come see one of our experienced business experts today.
Features
Versatile checking solution to accommodate businesses of all backgrounds
Ideal for large or small transaction volumes
Conduct unlimited monthly transactions at low per-item fees:

$0.10 per withdrawal or debit
$0.06 per deposit item

Earnings credit used to minimize or offset any fees incurred
Interest tied to a monthly earnings credit*
$15 monthly analysis charge
Free mobile banking
Free e-Statements
Free ATM/debit card
Convenient monthly statements
Free Visa® debit card**
Nationwide surcharge-free ATM usage via the MoneyPass® ATM Network
Optional no annual fee credit card**
$100 minimum deposit to open
*The earnings credit is based on the average daily balance after deductions of reserve requirements and float. Monthly business accounts are analyzed with credit given on the net average investable balance based on the Account Analysis Earnings Credit Rate found on our rate sheet. The average daily balance is calculated by adding the principal in the account for each day of the period and dividing that figure by the number of days in the period.
**Subject to approval